Geschenke - Ein Totentanz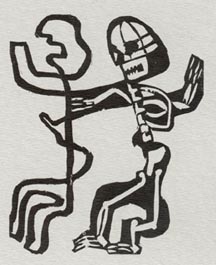 VETERANYI, AGLAJA
JEAN-JACQUES VOLZ.
Geschenke - ein Totentanz [Presents - A Dance of Death]
Woodcuts by Jean-Jacques Volz
26 folded sheets in a portfolio, with 23 woodcuts, 8 of which in black and 1 colour. Sheet size 33 x 56 cm. The woodcuts have been printed by the artist himself on hand-made paper (Vélin BFK Rives white, 250 g/m2), and each is numbered and monogrammed by the artist. Additionally, each cassette is numbered in the imprint, and signed by the artist and the writer. The portfolio is laid in a cassette, which is covered in monochrome paper and has an embossed title.
Edition in 60 numbered copies
1 - 50    50 copies, Arabic numbered
I - X        10 copies, Roman numbered, reserved for the writer, artist         and publisher, not for trade.
Price: CHF 1500.–, EUR 1000.–
order »»»
Text von Aglaja Veteranyi:
Geboren 1962 in Bukarest. Wählte den Freitod 2002. Stammte aus einer rumänischen Artistenfamilie. Reisen u. Auftritte mit dem Zirkus in verschiedenen Ländern.
Seit 1982 freischaffende Schauspielerin u. Autorin.
Regelmäßige Veröffentlichungen in Anthologien u. Literaturzeitschriften.
Aufenthaltsstipendium des Literarischen Kolloquiums Berlin 1998.
Teilnahme am Ingeborg Bachmann Wettbewerb 1999.
Im selben Jahr erscheint in der Deutschen Verlags-Anstalt, München, ihr erster Roman: «Warum das Kind in der Polenta kocht.».
Holzschnitte Jean-Jacques Volz:

Geboren 1928 in Zürich. Lebt in Schaffhausenund Göteborg. Sein Werk umfasst vor allem Holzschnitte. Zahlreiche Einzel- u. Gruppenausstellungen in verschiedenen Ländern. Mitglied der Xylon, der Internat. Vereinigung der Holzschneider, Sektion Schweiz.